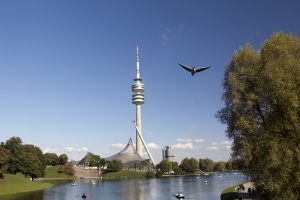 For guests it is easy to get active: Radio amateurs from many countries (whole EU, Australia, Canada, USA and some more) can simply operate their radio in Germany up to 3 months based on the CEPT license. They just have to carry the license from their home country. Radio amateurs from other "non CEPT countries" are required to apply for a guest license at the Bundesnetzagentur (Federal Network Agency). This should be done early before traveling to Germany, as the processing can take up to 4 weeks.
---
How to get connected…
Several amateur radio relays are active on VHF and UHF in Munich. Throughout the city, these FM-repeaters can be reached easily:
DB0ZM Munich Freimann, TX: 145.750 (Shift -600 kHz)
DB0NJ Munich Freimann, TX: 438.775 (Shift -7.6 MHz)
DB0EL Munich Olympic Tower, TX: 439.275 (Shift -7.6 MHz, CTCSS 123 Hz)
At DB0NJ a DMR-access is also available:
DB0NJ Munich Freimann, TX: 439.4375 MHz (Shift -7.6 MHz)
Timeslot 1 allows a dynamic talkgroup-allocation, however TG2628 (Bavaria) is assigned statically. Timeslot 2 should be used for regional (TG8) and local (TG9) connections only.
There is a FM relay on the Zugspitze (100 km south of Munich, 2960 m above NN, covering large parts of Upper Bavaria):
DB0ZU/2, TX 145.725 (Shift -600 kHz)
DB0ZU/70: TX 438.850 (Shift -7.6 MHz)
---
If you like to join a meeting…
There are several local sections of the DARC (Deutscher Amateur Radio Club) within the city of Munich and further sections in the surrounding area. All these DARC sections usually organize an evening meeting once a month, where guests are always welcome. More information can be found on the webpages of the DARC sections.
DARC sections in Munich:
DARC sections in the surrounding area:
---
Amateur radio shopping
Radio amateurs who come on visit to Munich often ask where they can find a local ham radio shop. Although there are many electronics stores in Munich, unfortunalety you will not find a dedicated shop for ham radio equipment here. However the trade fair "Ham Radio" usually takes place in July in Friedrichshafen at the Lake Constance (150 km south-west of Munich), and this is a good opportunity to buy equipment and to meet radio amateurs from many countries.